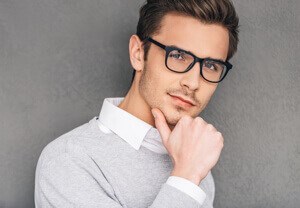 Listen up, guys. We don't know what you've heard, but you don't have to live with a spare tire around your waist or sagging skin on your neck any longer.While women are no strangers to the benefits of cosmetic surgery, a growing number of men are now discovering how they too can blast fat from those "trouble zones" that don't seem to shrink with diet and exercise. We're talking about the abdomen, love handles, and that dreaded double chin you noticed in last year's Christmas photo. With male cosmetic surgery, you can restore a youthful look to your face and body that will enhance your masculine features and send your confidence through the roof.
MALE COSMETIC SURGERY PROCEDURES
FACELIFT
As you age, the skin of your face loses volume and elasticity. This can result in sagging, jowls, and frown lines that can make you look years older than you feel. A male facelift addresses these problems by removing excess skin from your cheeks, jaw, and forehead. Then, the skin is tightened to eliminate wrinkles, resulting in a more youthful appearance.
MALE BREAST REDUCTION
Gynecomastia, the medical term used to describe enlargement of male breasts, affects between 40 and 60 percent of adult men. Luckily, it can be fixed with a male breast reduction, which involves liposuction and the surgical removal of excess fat. The remaining tissue is used to create a tighter and more masculine appearance.
LIPOSUCTION
If diet and exercise just aren't cutting it, traditional liposuction can be a great solution to banish stubborn pockets of body fat. However, it doesn't do much to address the excess skin left behind. At Shumway Cosmetic Surgery we use SmartLipo® Triplex™ to burn away fat cells and encourage collagen production for a tighter, more toned appearance.
RHINOPLASTY
Rhinoplasty is also known as a "nose job," a rhinoplasty is performed to straighten a crooked nose, reduce nostril size, remove a hump, shorten the tip, or narrow the base to make your nose more proportionate to your other facial features. A rhinoplasty is also a suitable option for those who have trouble breathing due to a deviated or irregular septum.
TUMMY TUCK
For years, women have enjoyed the stomach tightening results of a tummy tuck following major weight loss or childbirth. Now, men are getting this popular cosmetic surgery to achieve those "six-pack abs" they've always wanted. The difference lies in Dr. Shumway's ability to enhance the natural contours of the male abdomen, providing a more toned and ripped physique.
Here's the truth: there's no rule saying men can't get cosmetic surgery. It's not just for women! You too can experience the boost in self-confidence that comes from giving your appearance a much-needed refresh.
WE'RE PROUD TO OFFER MALE COSMETIC SURGERY IN LA JOLLA
What if we told you we could fix your physical flaws with a unique approach specifically designed to improve a man's facial and body contours? If this sounds intriguing, contact us. While many doctors only know how to perform cosmetic surgery on women, Dr. Robert A. Shumway has spent years adapting his surgical techniques to enhance the masculine features of his male patients.
Schedule a consultation today to see if male cosmetic surgery is right for you.