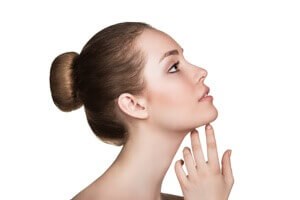 Think you're ready to make permanent changes to your nose? While it's true that a nose job can make a big difference in how you feel and how you see yourself in the mirror, it's not the kind of procedure you should do on a whim. Take a look below at some of the details you'll want to know before you take the plunge and get a nose job.
YOUR FAVORITE CELEBRITY NOSE MAY NOT LOOK GOOD ON YOU
When you sit down with your cosmetic surgeon, it's fine to have an idea of what you want. You can even bring a picture of your favorite celebrity nose and say, "This is what I want," but it's important that you listen to the doctor's advice about what is possible and what will look best on you. We've all seen scary pictures of people with a hodgepodge of features that just don't work together. Don't let that be you. If you choose a highly skilled and experienced cosmetic surgeon, they'll have a sound idea of what will look best on your face.
NOT EVERY RHINOPLASTY PROCEDURE IS THE SAME
There are two main rhinoplasty procedures: open and closed. The open procedure is done using a small incision across the column of skin between your nostrils, and the closed procedure is done with all incisions made inside the nose. Some doctors prefer one or the other, while others choose the procedure based on the particular nose job at hand. For instance, a doctor might opt for closed rhinoplasty for the removal of a hump on the upper portion of the nose, and then choose open rhinoplasty for more significant work done on the tip of the nose.
YOU'LL WANT TIME TO RECOVER
Rhinoplasty is not a lunchtime procedure. You'll want to take at least 10 days off of work to heal and allow the bruising and swelling to go down.
YOU'LL NEED TO LAY OFF THE EXERCISE FOR ABOUT A MONTH
Exercise is an important part of staying fit and healthy, but when you're healing from a nose job, it's important to keep your heart rate low for about 4 weeks. An elevated heart rate can increase swelling and bruising, and put you at risk for potential bleeding. Take gentle walks for the first month after your rhinoplasty procedure. The gym can wait.
YOUR NEW NOSE MAY REMAIN SWOLLEN FOR LONGER THAN YOU EXPECT
If you're getting a pre-wedding nose job or have any other special event that you hope to be ready for, it's important that you understand you may have some swelling for as long as a year. Most of the swelling will subside in 4 to 6 weeks, but it may take 12 months for it to disappear altogether, especially in the tip. What this means is that your nose may not settle into exactly what it's going to look like for a year.
YOUR NEW NOSE MAY CHANGE YOUR CONFIDENCE LEVEL, BUT IT WON'T CHANGE YOUR LIFE
If you've lived this long with self-consciousness about your nose, then a nose job really can make a difference in your confidence level. But it's vitally important that you understand it will not fix your relationships or relieve your sadness. It's also important to remember that this is your nose and changing it should be your decision, not your mother's or your boyfriend's or your talent agent's decision.
SURGERY MAY NOT BE YOUR ONLY OPTION
If you know for sure that you want to make permanent changes to your nose, surgery is your only real option. But you can also opt for non-surgical rhinoplasty, which can be used to camouflage a bump or create more symmetry. At Shumway, we use Radiesse®, a dermal filler that lasts up to a year. We cannot change the size of your nose with this injectable, but it's a great way to test-drive minor changes before you commit to surgery.
THE RIGHT DOCTOR MAKES ALL THE DIFFERENCE
When looking for a plastic surgeon to perform your rhinoplasty surgery, there are a couple of dos and dont's:
Do ask lots of questions
Don't ignore your gut instinct
Do check credentials and look at the doctor's before and after photos
Don't base your choice on price alone
Do take personal rapport (bedside manner) into consideration
Don't be afraid to walk away from the wrong doctor
DR. SHUMWAY IS AN EXCELLENT AND EXPERIENCED COSMETIC SURGEON
At Shumway Cosmetic Surgery, you're in the highly skilled hands of Dr. Shumway, an experienced and compassionate cosmetic surgeon who has performed countless rhinoplasty procedures, and who knows how to get amazing results. Dr. Shumway evaluates each patient personally and stresses the importance of close post-operative care. Every step of the way, from the consultation through the surgery and the recovery process, you'll know you're in great hands.
Give us a call to schedule a consultation with Dr. Shumway today.