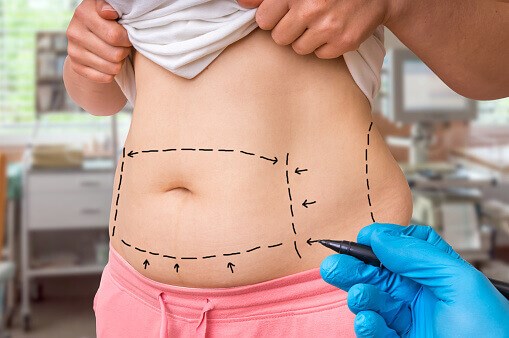 Liposuction has been around for years, and many people think of it as a miracle treatment that will help you eliminate post-pregnancy baby weight or drop pounds overnight.
In reality, liposuction is not an instant cure to weight gain, and people who are considering the procedure should do their research about it.
Here's what you need to know before you schedule your first consultation.
LIPOSUCTION IS A LOCALIZED TREATMENT
This means that going in for liposuction won't mean that all the fat gets sucked out of your body at once. Instead, your doctor will only treat small, localized areas that have specific fat deposits.
IT'S NOT AN INSTANT CURE
The typical liposuction treatment really only removes one to 10 pounds of fat. The procedure isn't designed to be a weight loss system unto itself. It is made to work in conjunction with a healthy diet and exercise to treat areas that are difficult to work out on your own.
YOU NEED TO BE MENTALLY PREPARED
In its purest form, liposuction is only about removing fatty deposits. It doesn't include any specific benefits for your skin or surrounding tissue. Your doctor may give you options for dealing with loose skin if your skin has lost its elasticity. For instance, a tummy tuck is often done at the same time to reduce the appearance of sagging skin in the belly area.
PREPARE FOR RECOVERY
In general, liposuction in La Jolla has become minimally invasive thanks to smaller cannulas and incisions so you should have only a few days of recovery time to plan for. However, if you decide to go through with a full tummy tuck, breast reduction or other procedure at the same time, your recovery time will be extended.
THINK LONG TERM
Your doctor will warn you that your body will need time to fully adjust to your new form. For the first month you will likely have some swelling and bruising where the liposuction was done.
After that, it could take up to four months for the muscles beneath your skin to start retracting and for the rest of the swelling to go down. Thus, it's important to not be disappointed your first few days at home if it doesn't look like the results are significant enough.
SHUMWAY COSMETIC SURGERY
Liposuction has proven successful for patients around the world. You can take advantage of liposuction if you are looking for a way to treat small fat deposits for good. Speak with Dr. Robert Shumway at Shumway Cosmetic Surgery today to learn more about whether or not you're a good candidate for liposuction and what other options may be right for you to achieve your body goals.